MANIFESTING THE LUXE LIFE
embody luxe in all areas of life
You might be thinking.
What the heck is THE LUXE LIFE?
Personally, I've always wanted to shift into a life full of luxe - BUT! I always thought that it was out of my league.
>> I felt like it was something that wasn't meant for me. But only for people born into, well, rich families.
I remember hearing about kids going to vacation every holiday period at school, and thinking "that's just how it happens for other people"
I settled for what I thought was meant for me.
THIS IS A PUBLIC SERVICE ANNOUNCEMENT!
NONONONO! You are totally able to create your own luxe life!
Let me tell you more….
[the following was WRITTEN WHEN I FIRST LAUNCHED THIS INCREDIBLE life changing COURSE]
As I sit here at the cafe in my Chanel cardigan and my Chanel backpack, I realise that I am in the shallow waters of what I believe to be my luxe life.
Shallow waters meaning that I've only just gotten started.
I'm in the beginnings on this journey to the LUXE LIFE! (The best is yet to come)
I've realised that for so long, I've wanted to be able to have the freedom to do what I wanted, to actually BE that person who has all the options.
In fact, today I went to my favourite book store in Brunswick and I bought the whole series of books that I loved reading a couple years ago - and I bought them in one fell swoop!
There's something about the way that people look at you when they see that you're wearing Chanel - and carry a Chanel back pack, and then buy a whole set of books (just because). (At least in the way the book shop lady was serving me I could feel she was taking extra good care of me).
There's a certain way they respect you and take notice of you. And I want to be completely clear that this was not the reason that I wanted the LUXE life. Of course I want to be well treated and I love that this now gets to be the case.
The truth is that you can change your energy at any moment and even without the Chanel people will respect you etc.
But the true reason why I wanted to live the luxe life was because:
WE ONLY HAVE ONE LIFE TO LIVE.
So you can bet your bottom dollar, that as soon as I realised that life was up to me (properly like two years ago) - and that I was the creator of my reality, I was going to live a life that was luxe. (And, I am!)
There are many reasons why I thought creating this course now would not be the right idea.
I had thoughts like:
>> "Kimberley, wait- you're not even FULLY living the luxe life yet! Wait til you're a 7 figure earner, or until you have a beach house."
Then I realised, that there are people who follow me now who really do think that I live a luxe life.
>> I stay at 5 star hotels when it's too hot.
>> I have a coffee at my fav coffee shop every morning.
>> I journal ravenously in $30 leather journals that I literally burn through
>> I wear Chanel. (bags, clothes, jewellery) + bought a Prada bag on a whim the other day (when it aligns, you gotta get it!)
>> I have weekly massages and monthly facials.
>> I have a multiple 6 figure business that continues to grow into bigger and bigger months!
>> I'm about to travel Europe for the rest of 2019! (GOING NOMAD!)
I know that 1 year ago I would have LONGED to be in the place I am in now - and I would have thought that this literally was the luxe life. And the more that I morph into the life I desire that is luxe... The more it will always be able to improve.
SO! I decided that NOW is the time.
In fact, there would be NO better time than now. Because right now, I am in the CUSP - the bridge, the INTER-STATE of this being the new level for me. I know for sure that in the near future, I will simply be living THE LUXE LIFE - and by then, it will be hard to remember what it was like to bridge from the lack/settling to the luxe. (HENCE Why I recommend joining before the timer runs out to get the BONUS of having access to the past round's modules where I speak about all this in the old vibe and energy! Keep on reading below if this sentence doesn't make sense!)
THIS IS THE BEST TIME.
I'm literally in the area between luxe and settling (I'm essentially in transition) - and so it's the BEST time for me to help you babes shift into this also.
Because the fact is most people who are going to enrol into this course, aren't exactly looking to be wearing Chanel tomorrow, or living in a mansion next week.
You're looking to GET YOURSELF ONTO THE TRAJECTORY of having that in your NEAR future. FEELING that now, shortening the time between you just wishing for the luxe life, and actually LIVING the luxe life.
You want to be passing on the bridge getting to the luxe life.
Step by step, improving your life, improving your standards, lifting and elevating into your luxe life.
And let me tell you that we can align you with that NOW.
TODAY. STARTING THIS MINUTE.
YOU MIGHT BE THINKING:
But how? How is this even a course?
It's a course because it's something I WISH existed.
I knew in my soul I wanted to live a first class life.
I wanted to be treated like a princess, wearing the best, eating and drinking the best, shopping the best.
I now know with full confidence that's where I'm heading.
But I almost wanted someone to show me the steps on how to get there.
I had these questions:
>> How the heck do I feel luxe now when I'm in a dingy apartment? I have neighbours yelling through the walls all the time, the people in the area are low vibe and untidy…
>> I don't have a nice high vibe space that I live in… I crave luxe accommodation. I crave being treated like a VIP.
>> I don't have enough money to live a luxe life all the time - it feels wishy washy, pointless to go back and forth between luxe and lack
>> I feel STUPID wanting to feel into the luxe life - I feel like a wannabe.. a try-hard (and I would start to feel sorry for myself)
>> How do I feel luxe when things in my environment aren't aesthetically pleasing?!
>> How do I feel luxe when everyone around me knows that I'm really not??
And this was ALL before I had my Chanel bags.
This was all before I had the 6 figure business.
YET I MANAGED TO MANIFEST THE LUXE LIFE IN UNDER 6 MONTHS.
I'm sharing the secrets with you to creating a high vibe, luxe life - no matter WHERE you are right now.
[the following is a luxe update of the luxe life i live currently!!]
So - the stuff written above on this page? That was written when I launched this course and was JUST about to go nomadic. I have left the text there for a reason - This course involves all THAT energy, ADDED ON WITH MY FRESH NEW LUXE VIBE!!!
I AM STILL THAT GIRL - AND! My life has elevated even more since! I now live by the sea on a Greek Island, by morning working and loving my business inside and out doing the work I love, climbing cliffs with my boy, exploring and driving around the island eating freshly grilled fish and drinking just-squeezed OJ. Booking future luxe accommodation for our future Italy and France travels each night and relaxing with a movie on the laptop.
Here's what I know for sure:
Manifesting your luxe life isn't an overnight thing. It's a constant journey with different luxe levels and challenges. It's a spiral of levels where each level comes with new energetic standards (including brilliant ocean views and luxe airbnbs and hotels to say the least)
I'm now travelling the world as a boss babe nomad and I am entering my next luxe level. As I've stepped into travelling Europe and living the luxe life - I have now reached a brand new standard!
I will be travelling to Florence, Rome, Sicily, Genoa, Milan (omg yes Milan!) And I plan on taking you with me throughout this new round of MTLL!!
GOOD NEWS:
The fact is, that you deserve to KEEP on increasing your life. Not just stop where you are! This course is designed to grow with you. This course is designed to be your go-to for "how do I keep on elevating my luxe life?"
Note: By joining this course you get access to all future rounds also where I continue to elevate my life. (In the future where I'll be staying in $3k a night hotels etc!)
SO! Let's elevate together, continue to sharpen our aim with the luxe life we're manifesting and rise to brand new levels of luxe!
I desire to show the NEXT level with you girls and bring you with me!
So whether you're someone who has access to only your humble apartment right now, or maybe you live with your parents still - by joining this course, you will be able to apply the energetics that you learn in this course wherever you are in your luxe life journey - because I HAVE BEEN THERE!
THE JOURNEY - WHERE I AM AT AT THE MOMENT.
WHY the next live round of MTLL? Like I said, this journey is one with constant levels. Even one month after transition, there are still parts of my life where the old life still shows up! After travelling through luxe Santorini and Athens, Byam and I forget we booked a place 11 months prior to travelling that is pretty ordinary!
It seems lovely near the sea, but it's no 5 star hotel. Of course, looking at this from a manifestation perspective, this is a manifestation in itself. It's a response to my vibration. It's existing in my life for a reason!
The thing is that things can fluctuate in your luxe life, and there are times where you will are stabilising your baseline. It's not that you fail or do anything wrong. You are simply elevating and in the elevating you may have times that still remind you of where you came from! (And it might trigger you).
So I am determined to continue to elevate and live the luxe life more and more! And I am so excited to show you girls the secrets that I continue to unlock as I travel through Italy in the next few months!
HERE'S THE DEAL <3
We will go LIVE each week for 4 weeks! I'll be sharing the concept of living luxe that I've been practicing that CONTINUE to help me elevate. Not all my courses are LIVE when we do a second round - but this one IS! Because I'm at my next level and will be showing you girls REAL LIFE examples.
Let me share a secret with you:
The quality of the luxe in your life is not dependent on the money you have, or the surroundings you have - but on the MINDSET you have.
By us working on your mindset, naturally your external life reality will begin to REFLECT that.
This is BY ALL MEANS the fastest way to manifest the luxe life.
YOU MIGHT BE TOLD:
You can't have a luxe life - it's for rich people only

Having a luxe life is too materialistic!

You're in a fantasy to want a luxe life when you're absolutely not there right now

You're crazy. In a fairytale.
I'M TELLING YOU:
You're NOT crazy - you are DRIVEN, YOU ARE IN TUNE WITH YOUR SOUL!

You DESERVE the luxe life 111%

You can HAVE the luxe life yes yes yes

Dream big and dream bigger honey!

If you're here reading this, you are feeling CALLED to rise up to your luxe life!
TO BE CLEAR.
This course is not simply about manifesting nice things, high end experiences.
It's a WAY OF LIFE.
It's the ultimate bridging for modern girls who LOVE manifestation who desire to live their best life.
I share with you EXACTLY the luxe things I do throughout the week (from the beginnings of how I got into this - when I had literally minimal money to spend on luxe dates) TO NOW where I have weekly massages, blow drys, pedicures, facials etc (and SO much more).
This is a course to UPGRADE your life. To QUANTUM SHIFT into your best life.
Why will it change your life?
Because I know that for so long you've been looking at Pinterest and Tumblr (in high school) and Instagram seeing all the photos you wish you could bring to life in your life.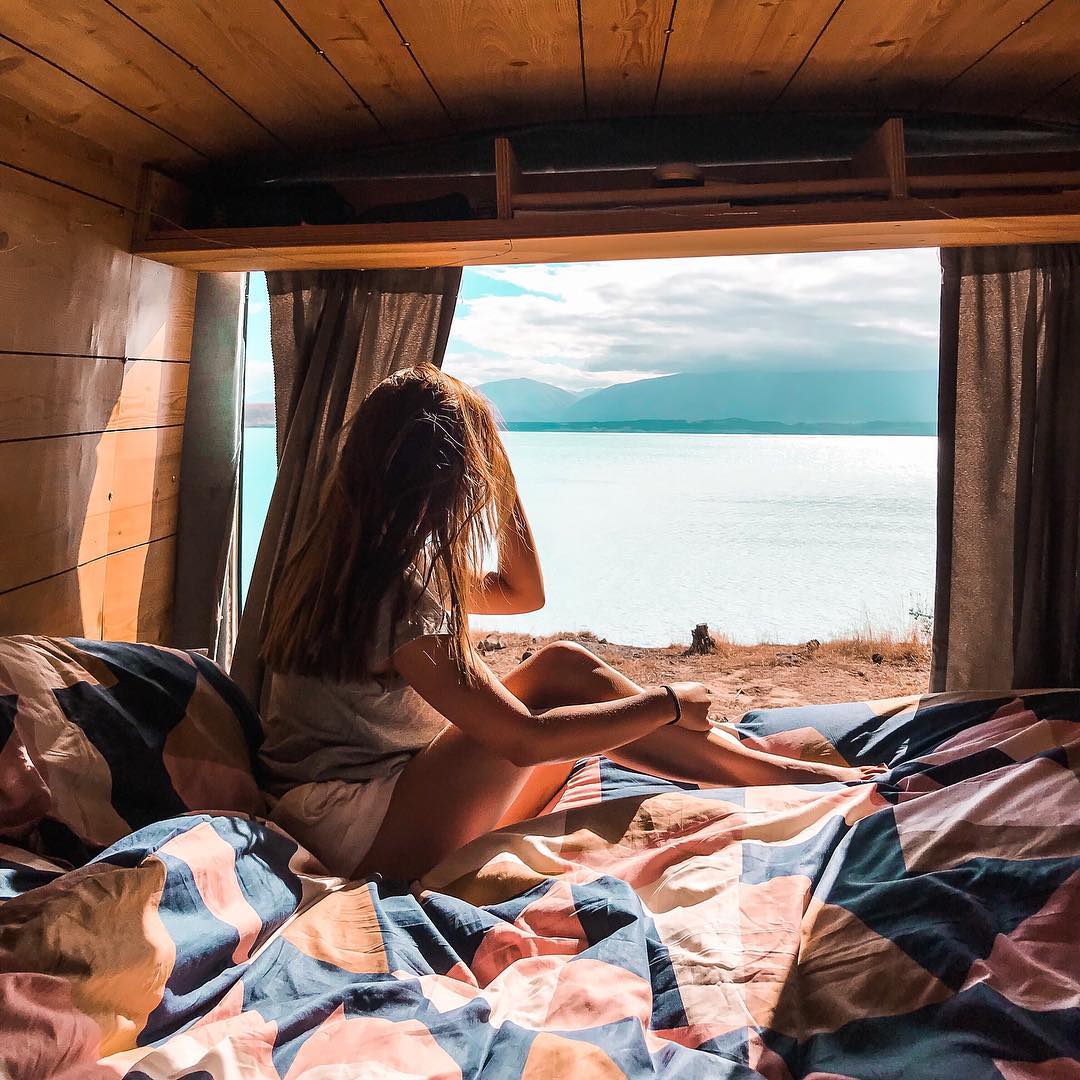 See this photo? This is the view I had in New Zealand a few months ago, it was a TUMBLR DREAM for me to have the van with the doors that open up, the bed - parked up beside a lake with a gorgeous view like this - and it came to life!
Well, it's time to stop wishing babe. It's time to LIVE IT UP.
When I started to manifest the luxe life, I realised that I began to LOVE life so much more. I was invigorated, inspired, SET ALIGHT.
I realised that before I was blaming myself for feeling bored about life. I was feeling like life was mundane, uneventful.
But then I began to shift my mindset - and my external reality began to mirror this to me. I started having a MUCH more high vibe and luxe life.
But it all started with a home made chai tea in my favourite pink big tea cup at home next to my lamp lit up at 6am in the morning, journaling in my $1.50 notebook from Muji. It started with the most minimal things.
And it brings tears to my eyes to realise how far I've come. From that girl in the cluttered room, waking up each morning with dreams to live life large.
She never once gave up.
She never once let her dreams go.
She persevered. She worked on her mindset, day by day knowing that one day she would be wearing Chanel.
By morning and by night with specific daily routines, she worked on her internal condition.
One day she would be staying in 5 star hotels. Providing for her family. Moving out into an apartment she dreamed of.
And that became her reality.
Kimberley stepped up. Wings fully fledged, Kimberley stepped up to manifest her luxe life - and now it's YOUR TURN.
Will you join me?
I WILL BE SHOWING YOU:
The exact morning routines I did to get to the luxe life now being on automation for me.
The exact morning and night routines that I do to PROGRAM my mind for a day of success.
Mindset shifts. Journaling. Affirmations. THE ENERGY WIELDING.
I'm showing it all.
4 weeks, let's do this girl! <3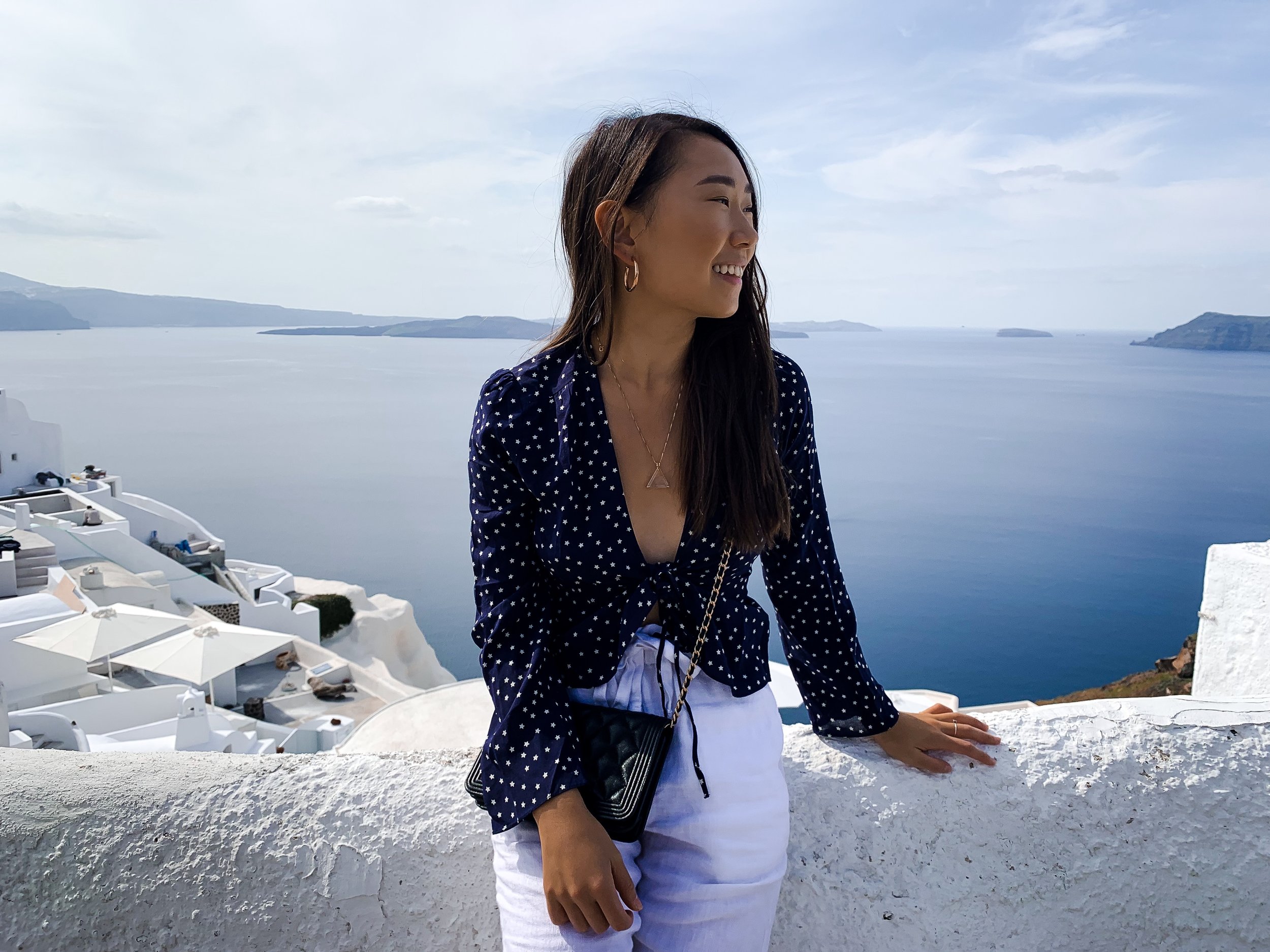 Let's reach your next level of LUXE!
WE WILL BE…
Jet-setting you into your luxe life starting now. No big spending required.
Creating the incredible NEXT LEVEL mindset shifts to get you closer and closer to your luxe life.
Manifesting INCREDIBLE luxe situations.
Getting you being treated the way you SHOULD be treated - as a first class girl. (No more walking into high end stores and feeling like no one is paying attention to you, no more tacky make-shift ideals)
REVEALING the limiting beliefs behind why you feel you have to shrink away from a luxe life (even though it's exactly what you want!)
Getting you to feel SO MUCH MORE high vibe, in alignment, flow in all areas of your life.
NOW in order for these things to happen, things must take place.
EMBODY YOUR SOUL ENERGY
You must be embodying your soul energy from within that you know is SO powerful that it would absolutely send you into quantum success in the blink of an eye (AND your luxe life, as a byproduct).
FEELING IT EVEN WHEN YOU'RE NOT
Even whilst you're renting a place that's NOT an ideal environment or still living at home with your parents - we will get you feeling LUXE and shifting in the the luxe NOW.
SOUL ALIGNED CONFIDENCE
It's about having the unwavering CONFIDENCE that you know for SURE that you were always meant to be treated well, as a girl who can HAVE IT ALL.
OUT OF THIS WORLD FAITH
The faith that one day you will be there - and not just one day - SOMEDAY IN THE NEAR FUTURE!
THE WILLINGNESS TO BE SEEN
You need to be willing to be seen, felt, heard. Without this you will shrink into the back of the room in each room you enter. We want you to be MAJORLY visible to people in all situations, frightening and unfrightening.
THE ABILITY TO TAKE UP SPACE, LIVE BIG ENERGY
I used to think I was bothering people when I took up space. This is calling you to STAND UP for your right to take up space and take it without questioning it! We want to live BIG energy. No matter how petite or tall you are, a pre-requisite to living the luxe life is to live BIG ENERGY.
ASK FOR WHAT YOU WANT
Without feeling bad about it, without questioning it and NOT just settling for what you were served at the cafe when you asked for NO SUGAR!
ABUNDANT DATES WITH SELF
Coordinated dates in your schedule when you're taking yourself out for an ABUNDANT date. And yes, this includes even if you have a "tight" budget.
TO NOT CARE WHAT OTHERS THINK
It is REQUIRED that you don't care what others' opinions are. That you are UNAPOLOGETIC about wanting after the luxe life. We get you feeling bulletproof and immune to other people's thoughts so that YOU are your centrepoint of thought.
TROUBLESHOOTING WHEN YOUR FAMILY THINKS YOU'RE CRAZY
Oh yes - and then the part where you want to shrink into the background because your family think you're going crazy or are deluded for feeling like you're in a luxe life. We talk about this DEFINITELY because it's something EVERYONE goes through.
IGNORING THE INCOHESION
Even when you feel it's OFF for your to be in a space with your "past" friends, because you feel like they'll think you've CHANGED or are becoming "too good" for them - STILL embodying and shifting into the luxe version of you.
BE UNAPOLOGETIC ABOUT YOUR DESIRE FOR THE LUXE LIFE!!!
Enough said. It's needed.
TO FREAKING LIVE BIG, GO BIG
All with the most perfect blend of modern girl manifestation.
So. You're probably already ready to click join. Here are the details.
THE DETAILS
START DATE: 27 MAY, 2019
WE ARE GOING LIVE HONEYS!!! LIVE MODULES!
This course is 4 weeks long!! You and me, working on your internal condition to SHIFT you into your luxe life.
Come join - it's without question that if you feel called this. is. for. you. <3
4 x WEEKLY MODULES

Where we build on creating your IDEAL, luxe life -> bringing it to life seeing it come to life!

weekly Aligned luxe mindset work

Questions and energetic shifts that are specially engineered for creating the luxe life!

ACCESS TO ASK KIMBERLEY QUESTIONS

Ask me your burning questions in the LIVE round (this round!)

SECRET FACEBOOK GROUP!

Where we will be masterminding together on the luxe life you're creating

ACCESS TO ANY FUTURE ROUNDS!!

If I continue to add to this, you get access to each round and update!! (This allows MASSIVE returns on your investment)!
SO, READY TO manifest your luxe life?
Pick an investment plan below!
GO VIP (crazy value)
Weekly x 1-1 calls with Kimberley
Ongoing message support throughout the 4 weeks!
An immersive experience with close contact with myself!! I will love and support you the whole way through <3